Disclosure: All content is interest based and not to be taken as advice. This post may include affiliate links that result in my earning a commission. As an Amazon Associate I also earn from qualifying purchases. Full disclaimer
here.
A firefighter themed gift is always a huge hit for those who take on this brave job. And what a job it is. Nothing short of absolute appreciation is good enough for our treasured firefighters. Here is a vast selection of unique Firefighter Gifts for you to consider.
Unique Firefighter Gifts from Redbubble
Click the link below to browse firefighter themed coffee mugs, t-shirts, throw pillows, hoodies, stickers and much more.
Cool Firefighter Gift Ideas from Zazzle
Gifts below range from coffee mugs, caps, mouse-pads, face masks and key chains to firefighter sayings on t-shirts and hoodies.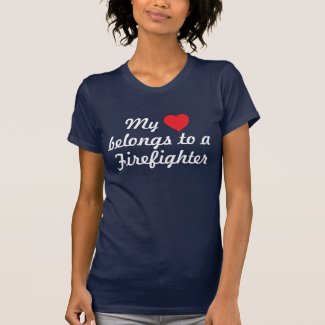 My heart belongs to a firefighter t shirt
by
a1rnmu74
at Zazzle.
Firefighting-themed face masks are included in this collection, along with bandanas, bumper sticks and other unique gift ideas.
Retirement Gifts for Firemen
Browse for some unique firefighter retirement gifts. You can get some great ideas for celebrating the life of a newly-retired fireman or firewoman.
Retired Firefighter T Shirts
Click here to browse the massive Zazzle gift catalog to find:
Firefighter gifts for her or him
Christmas gift ideas for the Firefighter in your family
Birthday gifts for Firefighters you know
Firefighter retirement gifts
Firefighter Graduation Gifts
Gifts for a Firefighter Boyfriend, Girlfriend, Husband, Wife
Gifts for a New Firefighter
Volunteer Firefighter Presents
International Firefighters Day
The firefighting men and women in our lives deserve thank you gifts all year round. The day that we set aside to pay tribute to their exceptional work also provides the perfect opportunity for gift-giving. This day has come to be known as the International Firefighters Day. It falls on the 4th May.
A tragic event in 1998 in Australia, my own country, led to the decision to set aside a special day to recognise the sacrifices made by firefighters. Furthermore, this year, 2020, has again been a particularly horrific year for firefighters and all those impacted by the fires in south east Australia.
Thanks cannot even begin to express the gratitude for all the work done by those fighting fires in Australia, the US, Europe and across the world.
The well-recognised red-blue ribbon symbolises this international day.
Unique Firefighter Gifts for the 4th May
You can view our catalog of other coworker gifts here.
~~~~~~~~~~~~~~~~~~~~~~~~~~~~~~~~~~~~
~~~~~~~~~~~~~~~~~~~~~~~~~~~~~